Back to blog archive
Posted 2020/9/28
Jeep Trip 2020
In the summer of 2020, I realized I had a problem. I had a nice 1985 Jeep CJ-7 that finally had a bunch of problems worked out: rebuilt carb, new power steering pump, new fan clutch. It was driving great. But before long, we'd be moving to another state, and I'd have to either ship the Jeep (expensive) or sell it. If we moved to California, I couldn't bring it with me at all–it was a 49-states car and almost certainly could not pass CA emissions. I didn't want to sell it because selling cars is a hassle, plus I had just got it in good shape!
I decided instead to drive it to my parents' place in Washington State. They have a lot of shops and sheds around the farm where a Jeep could be tucked safely out of the way for later retrieval. They might also enjoy driving it around–rural Eastern Washington has plenty of nice dirt roads to explore.
Planning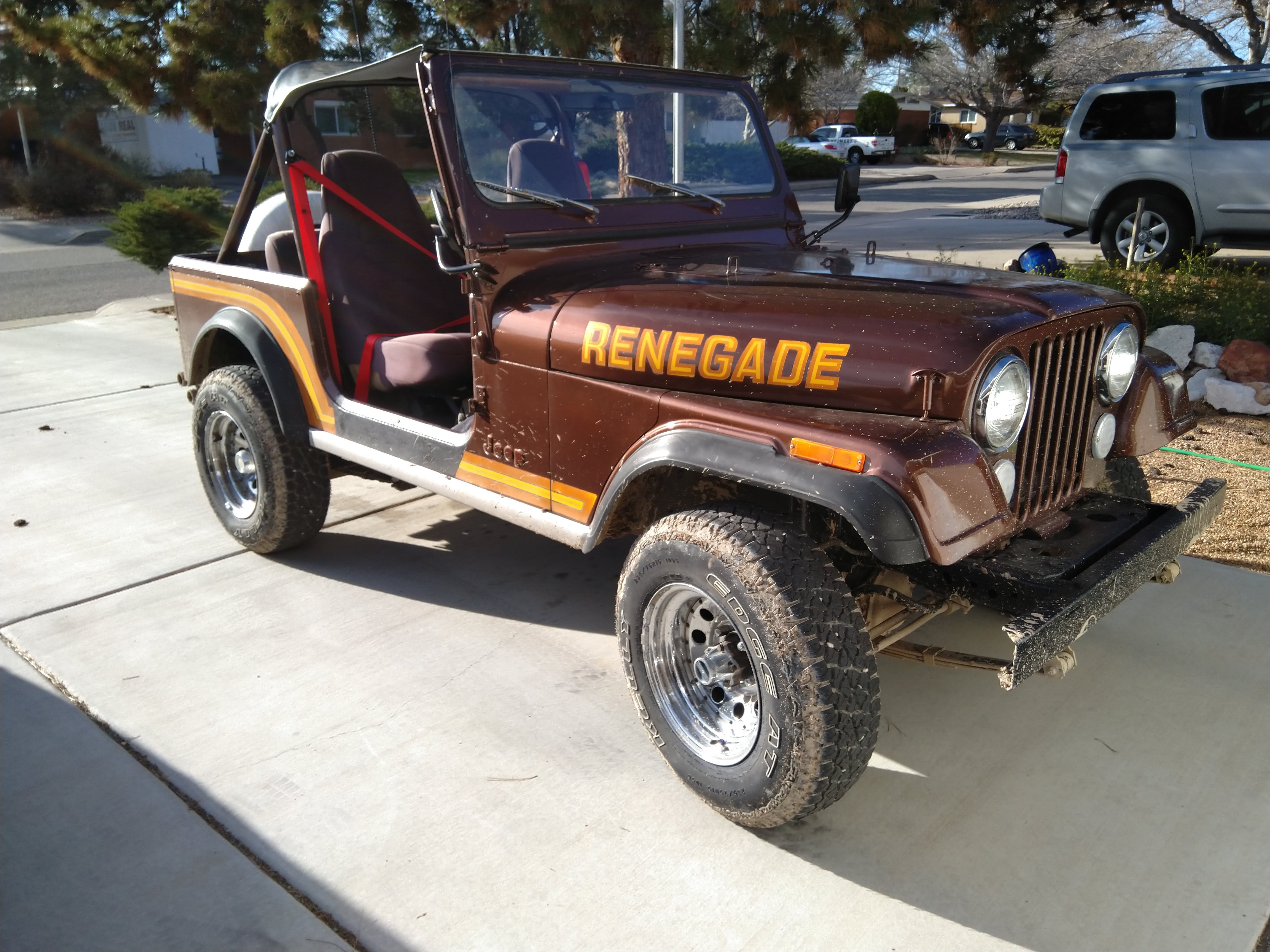 The problem: driving from Albuquerque to Royal City is a long, tiring journey in a modern car. My Jeep has no doors and a bikini top. It can make it to 75 mph, eventually, on flat ground. Driving for hours and hours on the Interstate would be incredibly unpleasant. Instead, I decided to stick to highways whenever possible.
Some brief experimentation with Google Maps showed me three possible routes. The first went west across northern Arizona and Southern Utah to Nevada, then north through eastern Nevada and Oregon to Washingon; I dismissed this as going through too much empty desert, concerned about gasoline availability and temperatures. The next went north through Colorado and Wyoming, then across Idaho; while scenic, this route involved climbing to over 10,000 feet in Colorado, which is not to be undertaken lightly in a carbureted vehicle–and the road back out of the pass is notorious for being very steep, very windy, and for not having guardrails.
The final route, the one I settled on, goes up into Utah through Moab, through the Salt Lake basin, up to Idaho Falls, then up to near Missoula MT before cutting west through the Rockies. Although it featured several high elevation passes, none of them was much over 7000 feet–much more reasonable for my Jeep, which was already tuned for 5500 feet in Albuquerque!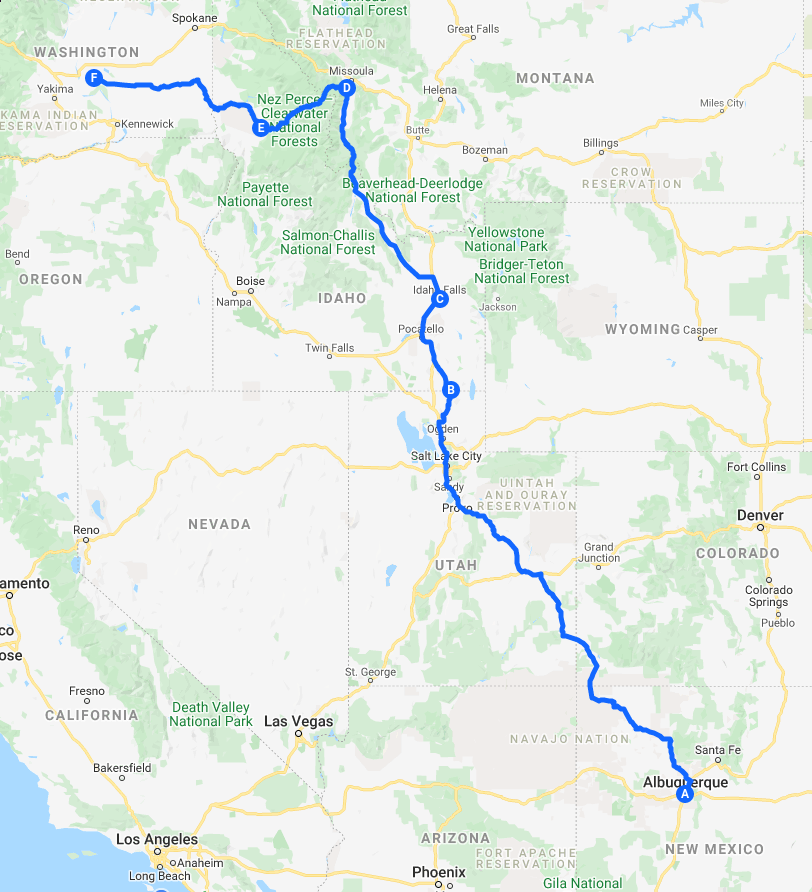 My plan was to drive from Albuquerque to Provo, UT on the first day, then on the second day drive up to Salmon, ID, and make the final leg to Royal City on the third day. I also had an invitation from my friend and co-worker Kris to visit him in Idaho Falls, which was along the way but slightly awkward in terms of distance; if I stayed there on the second night, I probably wouldn't be able to make it all the way home the next day.
I was initially planning to make the trip by myself, but luckily my friend Josh was able to fly down from Washington and drive up with me, which made the trip infinitely more fun.
Pre-Flight
Josh arrived on Friday night. We ate elk tacos and packed the Jeep. Our packing list included:
Fire extinguisher
Tow strap
Tool box
5 gallon gas can
Cooler with drinks
A tent
Sleeping bags
A tarp (just in case)
An oscilloscope I was giving to Josh
Various clothes and other personal items spread across a backpack, a duffel bag, and a suitcase
We used a 6-foot cable loop and a padlock to secure the toolbox, gas can, and oscilloscope to the rollbar, figuring those were the most attractive items for thieves.
Rather than mess around with cooking anything, we had decided to just eat out during the trip, so the cooler was only along for drinks. We filled it with sodas, a big bottle of water, a bottle of Myer's dark rum, and a lot of ginger beer (having declared the Dark & Stormy our official trip drink). We also packed two copper mugs, for mixing drinks in.
Day 1
We aimed to hit the road by 7 a.m., and only missed that goal by a few minutes. We did have to make a quick stop at the grocery store to buy ice for the cooler, but we were gassed up and cruising by 7:30.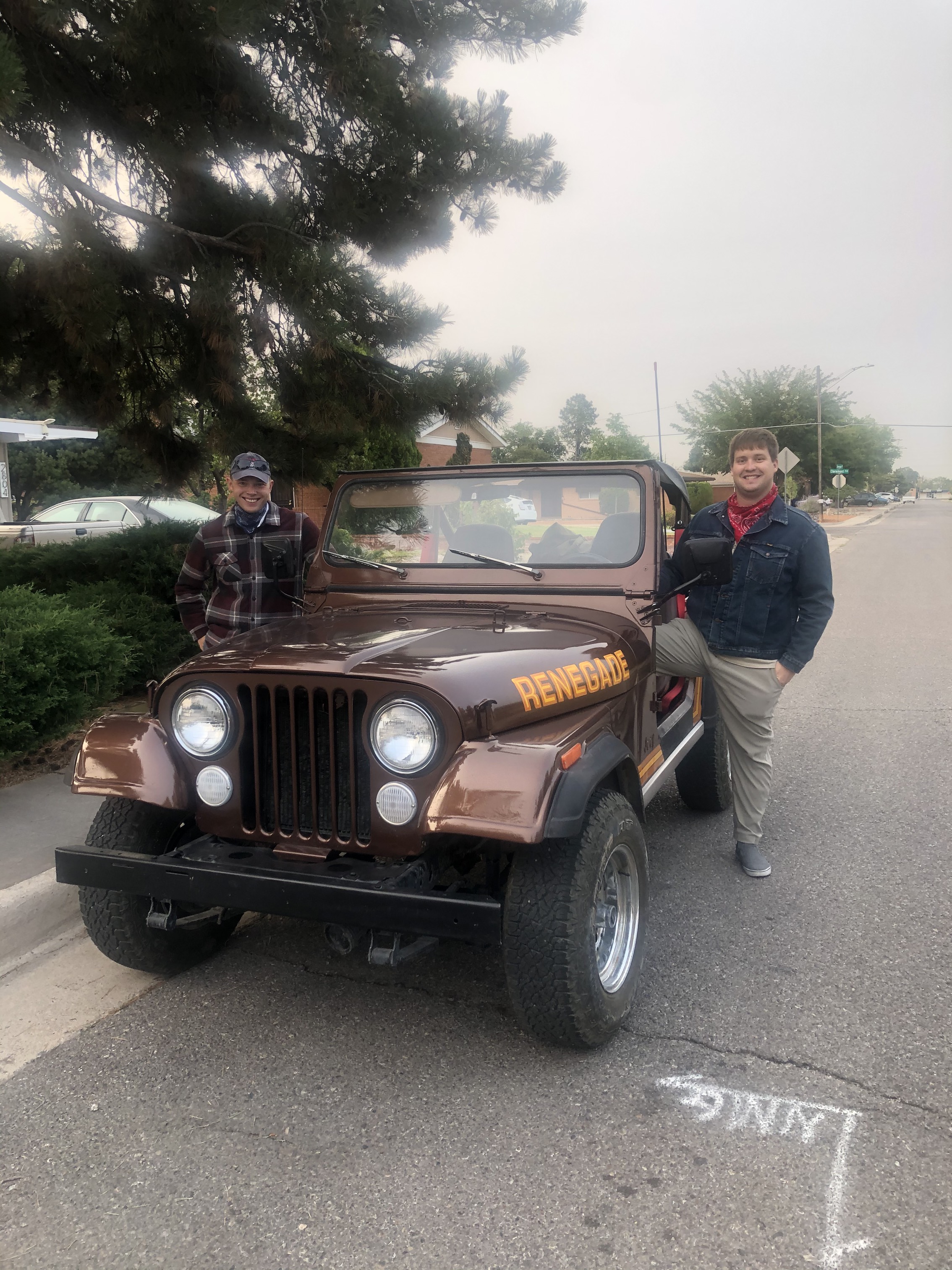 After a brief, noisy, and cold jaunt up I-25, we struck out northwest on Hwy 550. Within an hour, we realized that the previous week's cold snap had brought lasting cool mornings–we were freezing. We stopped in the little town of Cuba for gas, then ran across the street and bought some gloves. We also put on sweaters under our jackets. This helped a bit.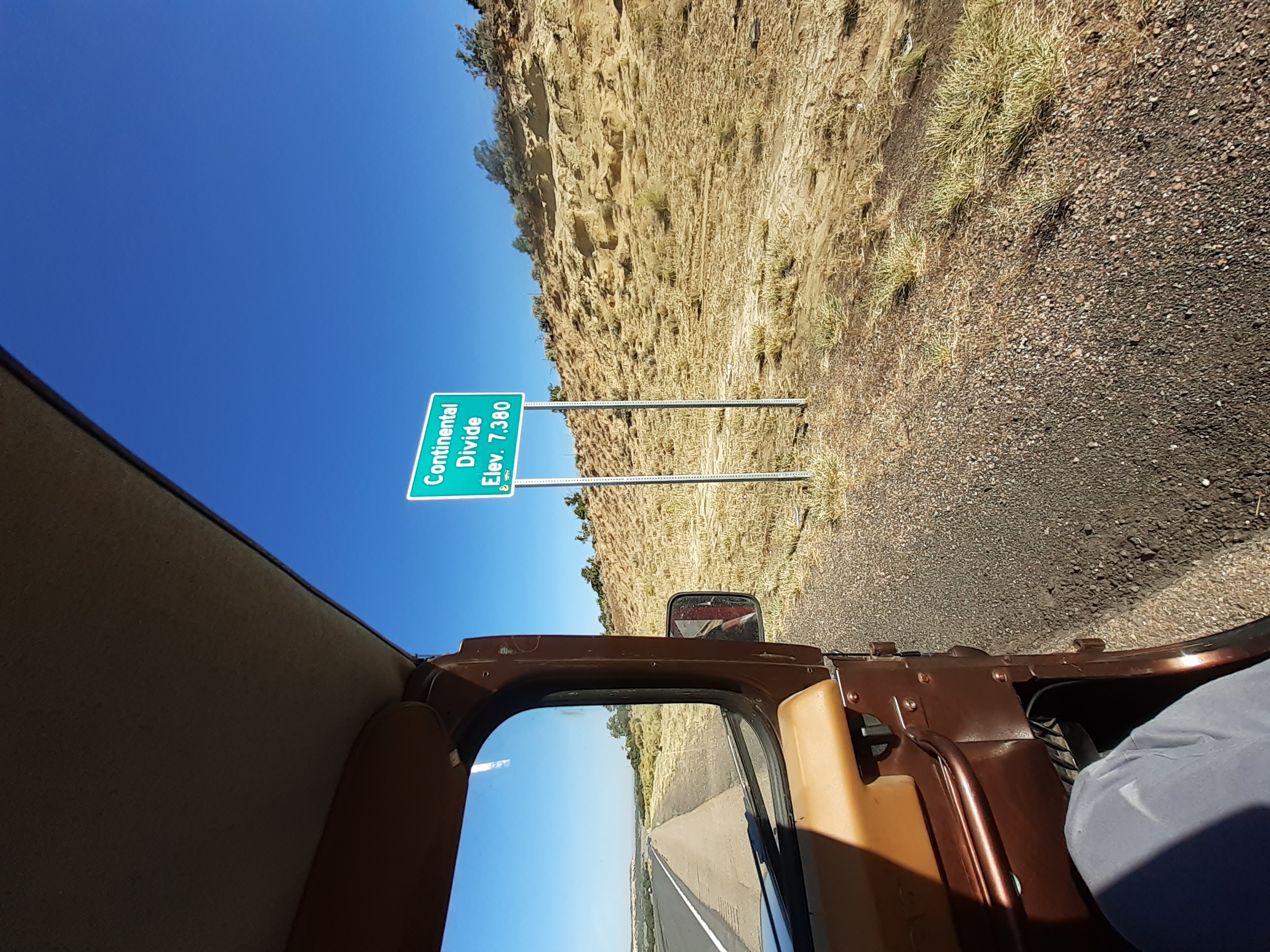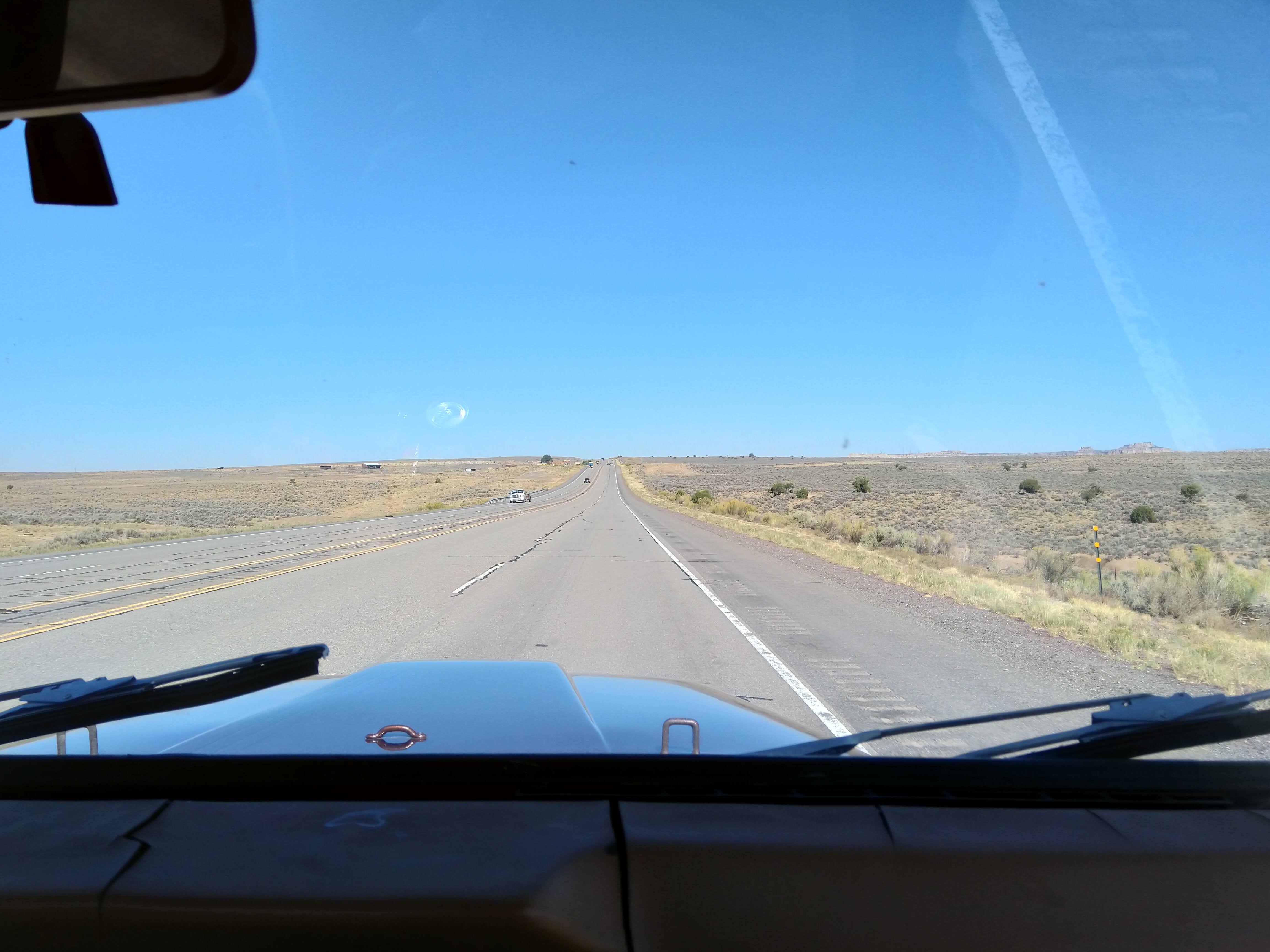 Things warmed up a bit as we went on, and the slight smoke haze we'd experienced around Albuquerque cleared up entirely. As the picture above shows, it's pretty empty out there, but beautiful. We made a quick stop at the Continental Divide to snap a picture of the sign, definitely annoying a trucker or two because the shoulder is not particularly wide there!
We stopped for gas at a Sinclair station out in the middle of nowhere; our general practice for the trip was to stop whenever possible, even if it often meant putting no more than a couple gallons in. Josh took a turn behind the wheel, and we were feeling pretty good by the time we got to Farmington. We stopped at Walmart to buy some long underwear for the next morning, then snapped a quick pic of "Sunny the Big Man", a Muffler Man in downtown Farmington: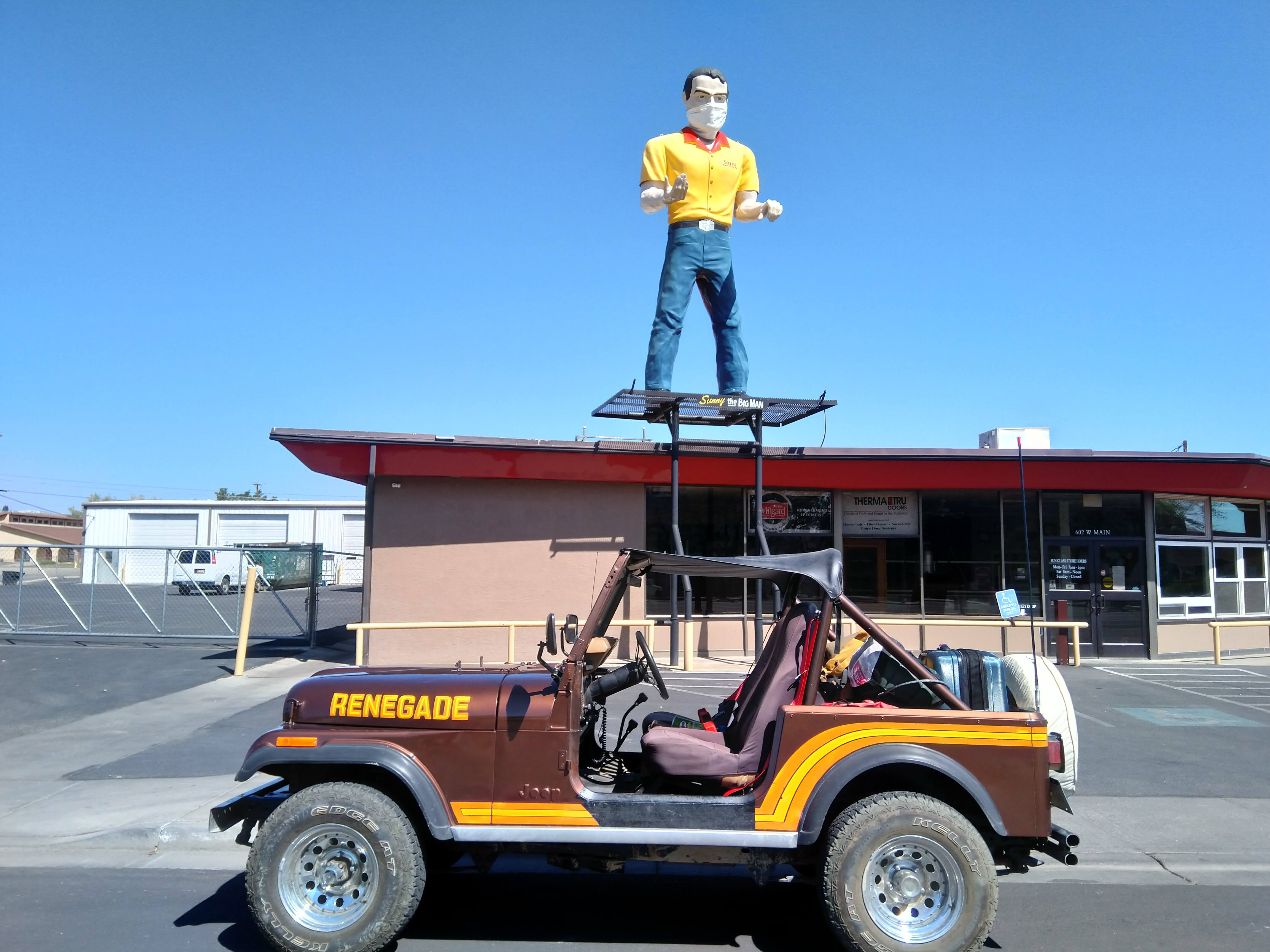 From Farmington, we took Hwy 64 west to Shiprock, where we got curious about all the people selling "kneeldown bread" on the roadside… but by the time we decided to stop at the next one, we stopped seeing it! Turns out "kneeldown bread" is kind of like a tamale.
Next we went north on 491 to Cortez, Colorado and Monticello, Utah. Around this time we started to recognize that we were definitely in for a long trip in a very loud and kind of uncomfortable vehicle. However, the beautiful weather and scenery were excellent compensations for any doubts.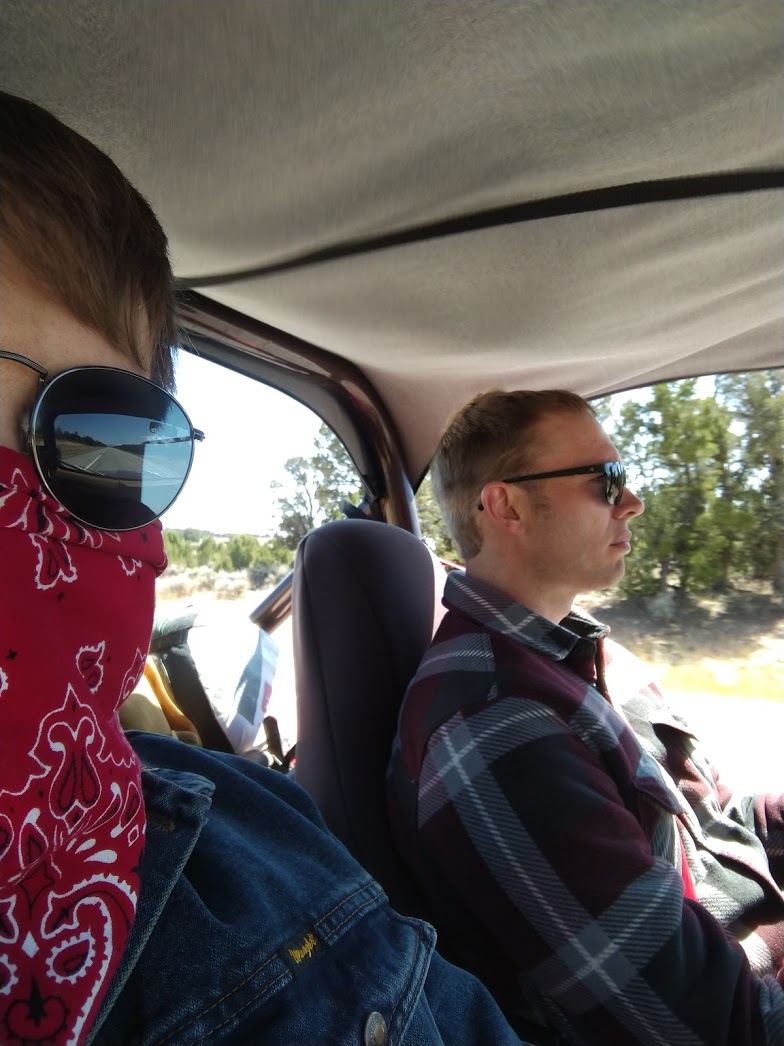 The drive from Monticello to Moab is spectacular, and looking at it out of an open Jeep, with no intervening glass, makes it that much more striking.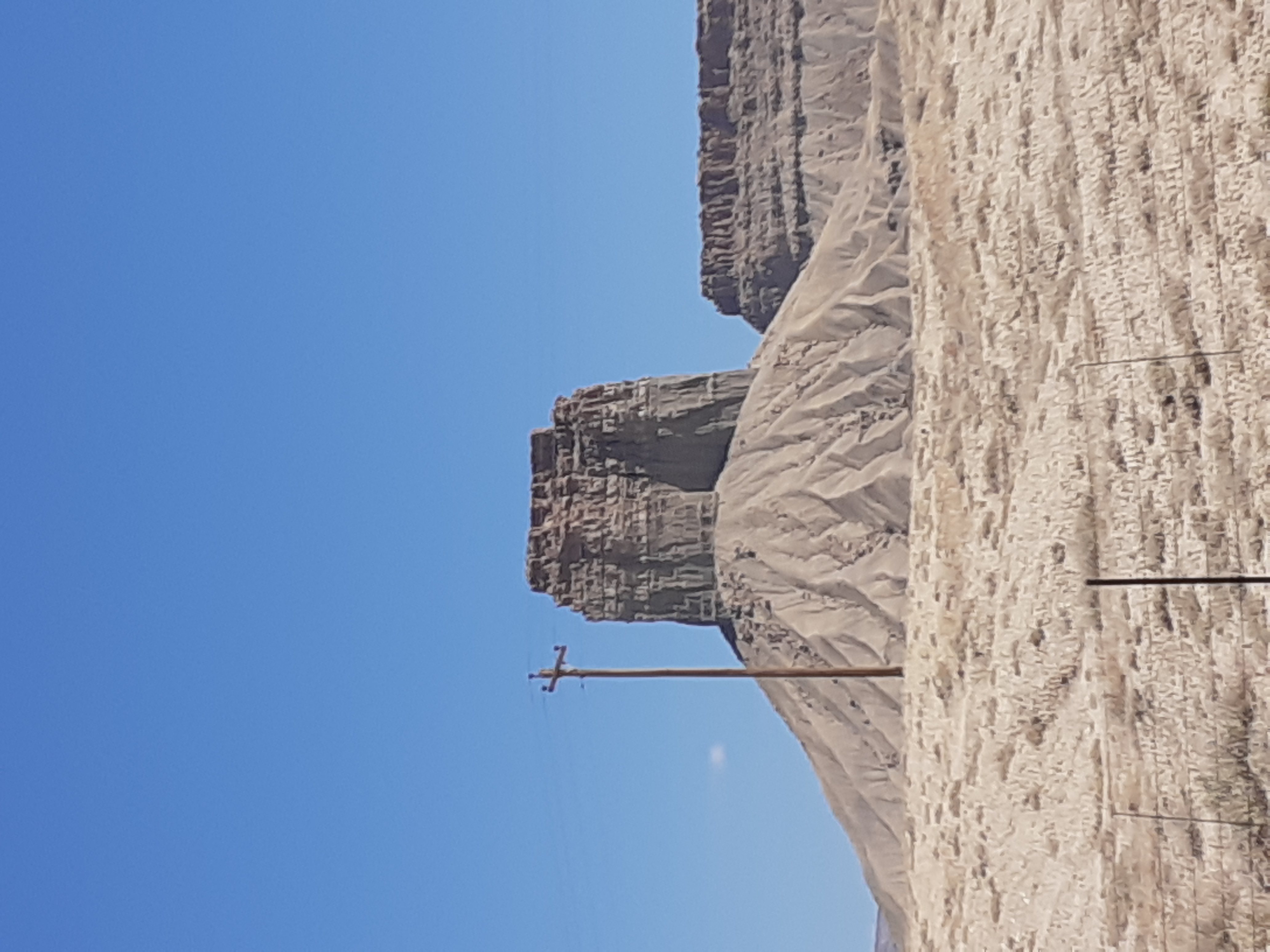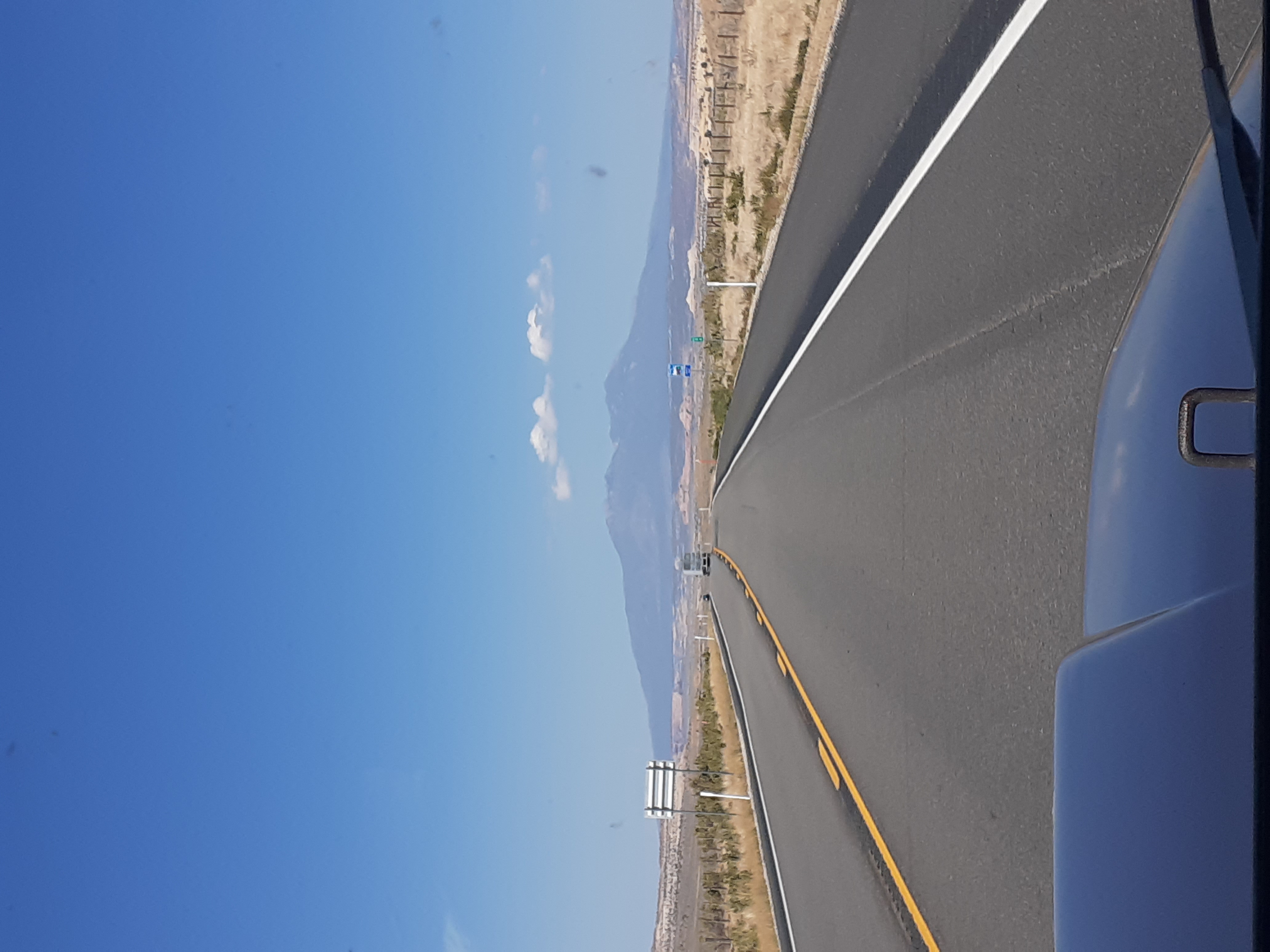 Around 4 p.m., we stopped at Moab Brewery for a beer and some planning. The initial idea of making it all the way to Provo on day 1 was starting to seem unlikely. By the time we got to town and found a campsite, it would be too late to go back in and get a decent dinner, which we were looking forward to. We decided to instead aim for Green River that night, then head for Kris's place in Idaho Falls on day 2.
An hour out of Moab, we reached Green River, a small town on the banks of the Green River in what is otherwise a shockingly desolate desert–compared to the friendly desert of New Mexico and Washington, the land around Green River really seemed eager to kill you. Although the beautiful state campground was full, we were able to find a decent tent spot at the KOA campground.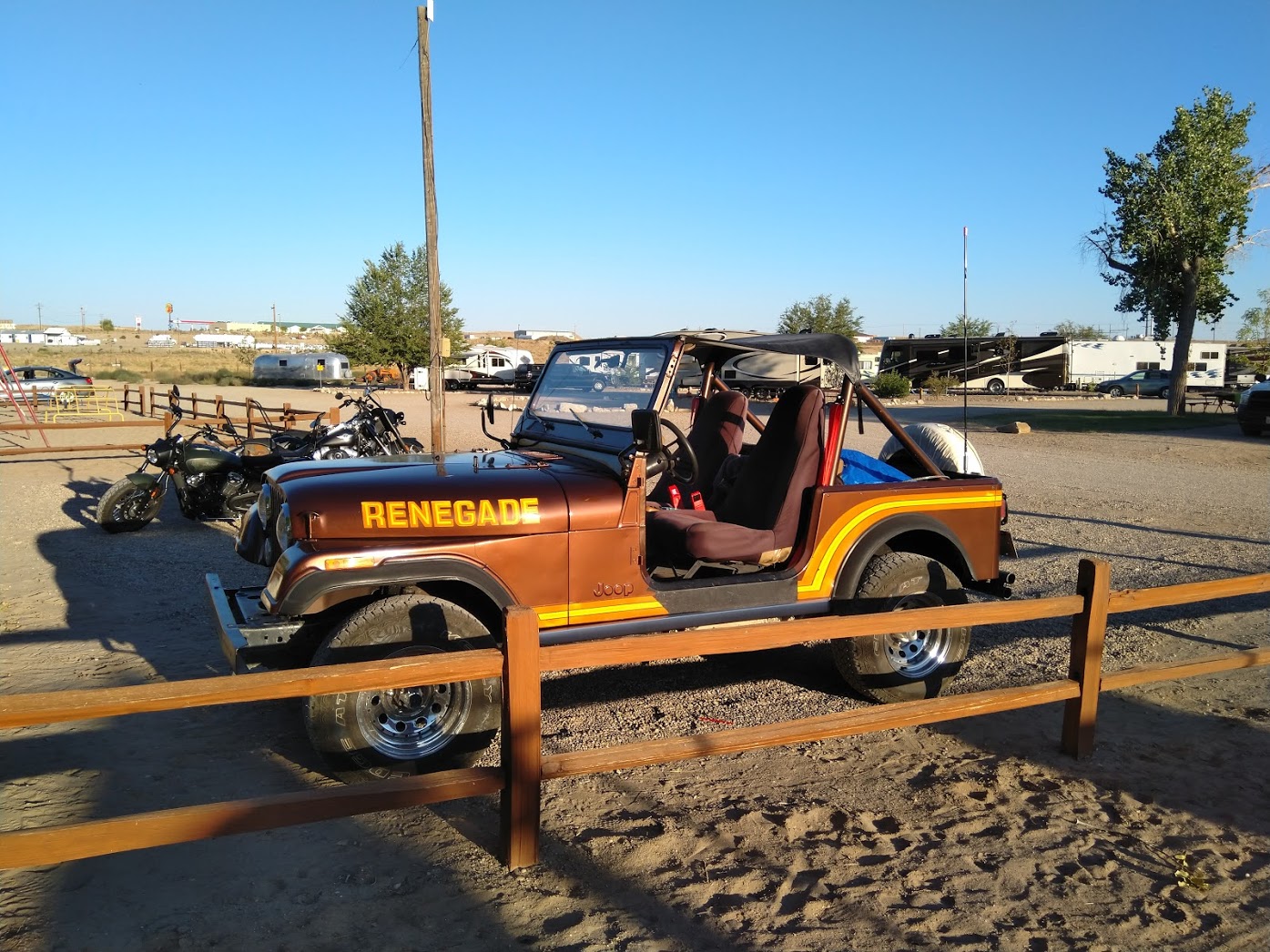 After setting up the tent, we headed downtown for a burger at Ray's Tavern. They make a good cheeseburger and have a fine selection of beers on tap, and we found that our counter seats gave us a front-row seat to the staff's confusing planning process for some sort of dance party to be held on the patio that night. Having finished dinner, we drove back to the campground and settled down for Dark & Stormys, beers, and talk.
Day 2
I woke up early (as usual when tent camping) and started getting ready to leave. Josh was up before long too, and we soon witnessed the speedy departure of Tent Lady. We call her that because she was (presumably) inside her small tent (in the site next to ours) from the time we arrived at the campsite around 6 p.m. the night before, to the time of her hasty packing and departure the next morning. Presumably refreshed after 12 solid hours inside a nylon cave, she left too quickly for us to capture photographic evidence.
We were on the road by about 7:30. After the previous morning's frigid start, we bundled up as much as possible right off the bat–long underwear, gloves, warm socks, sweater and jacket layers, stocking cap, and bandanas pulled up over our noses and cheeks. We still found the drive from Green River to Wellington a chilly experience, enlivened only by the semi directly in front of us throwing a tire (shedding bits of rubber over the course of several miles). Once we hit Wellington, though, we spotted a comfortable-looking cafe just in time to make a hasty u-turn and stop for breakfast.

They served us what is definitely the largest breakfast I have ever had. The picture does it no justice–the chicken fried steak is hiding at least a third of its mass under the eggs and hash browns. I wouldn't be surprised if there was a pound of hash browns on the plate. We had also foolishly ordered a side of lamb sausage each, which hardly got touched (to our shame) in the face of the massive breakfasts we were both tackling.
By the time we got back on the road, things were starting to warm up, and we made it up Hwy 6 to Soldier Summit without any trouble. At this point I was beginning to feel very comfortable with the Jeep, both in terms of its apparent reliability and in terms of my own comfort driving. Accepting that I should downshift into 4th on any hill helped me maintain momentum through the long climb.
When we dropped into the Salt Lake basin at Provo, we got our first sight of the smoke haze that would accompany us the rest of the trip, although it was not particularly bad until we got to Idaho. Salt Lake City and the surrounding towns have merged together into an incredibly long sprawl which is extremely unpleasant to drive. The freeway is constantly under construction, and the alternative is a collection of stoplight-ridden "highways" through town. We eventually pulled off the freeway just south of SLC to get a shot of the Mr Spock Muffler Man on top of a paint shop: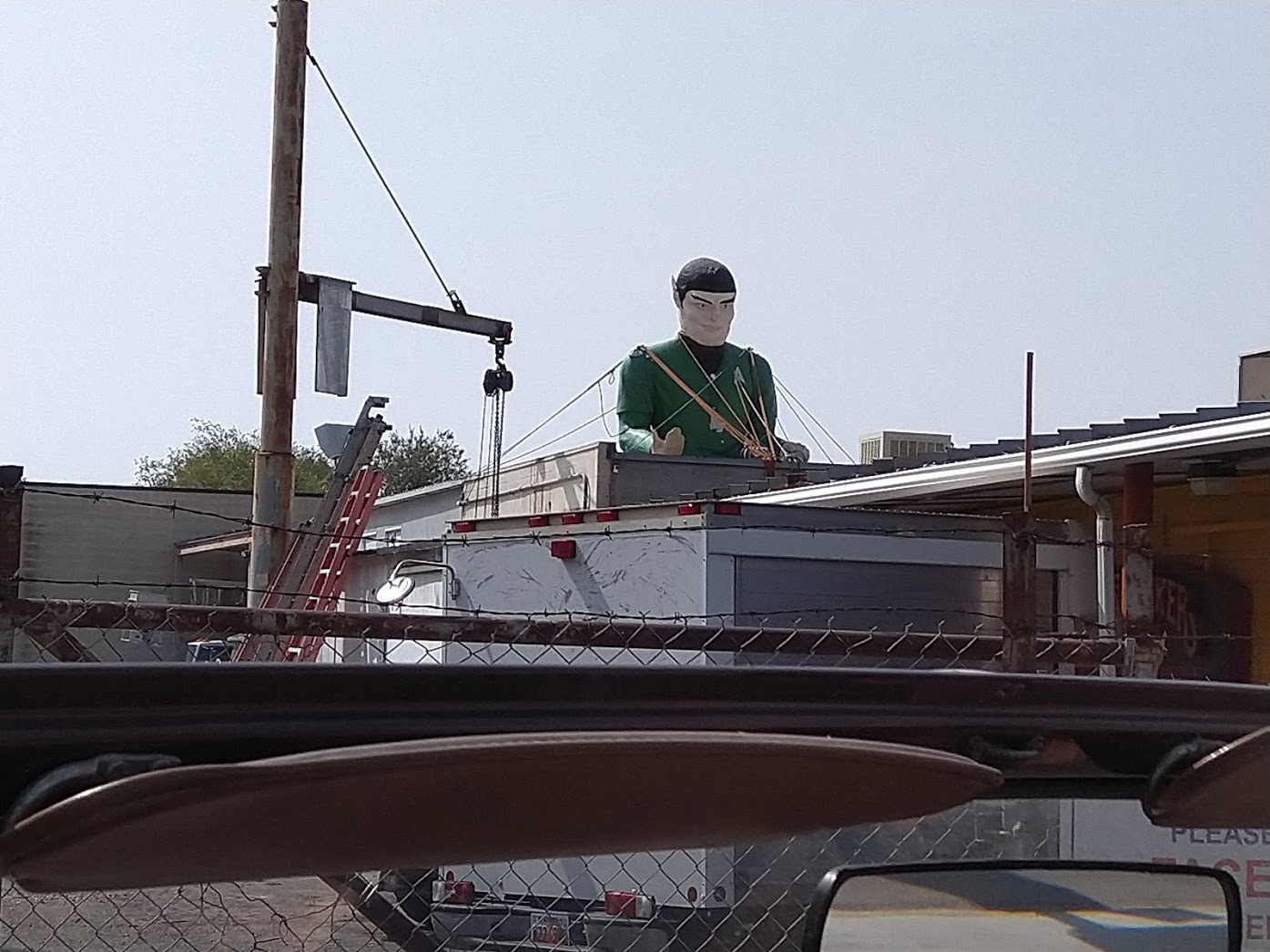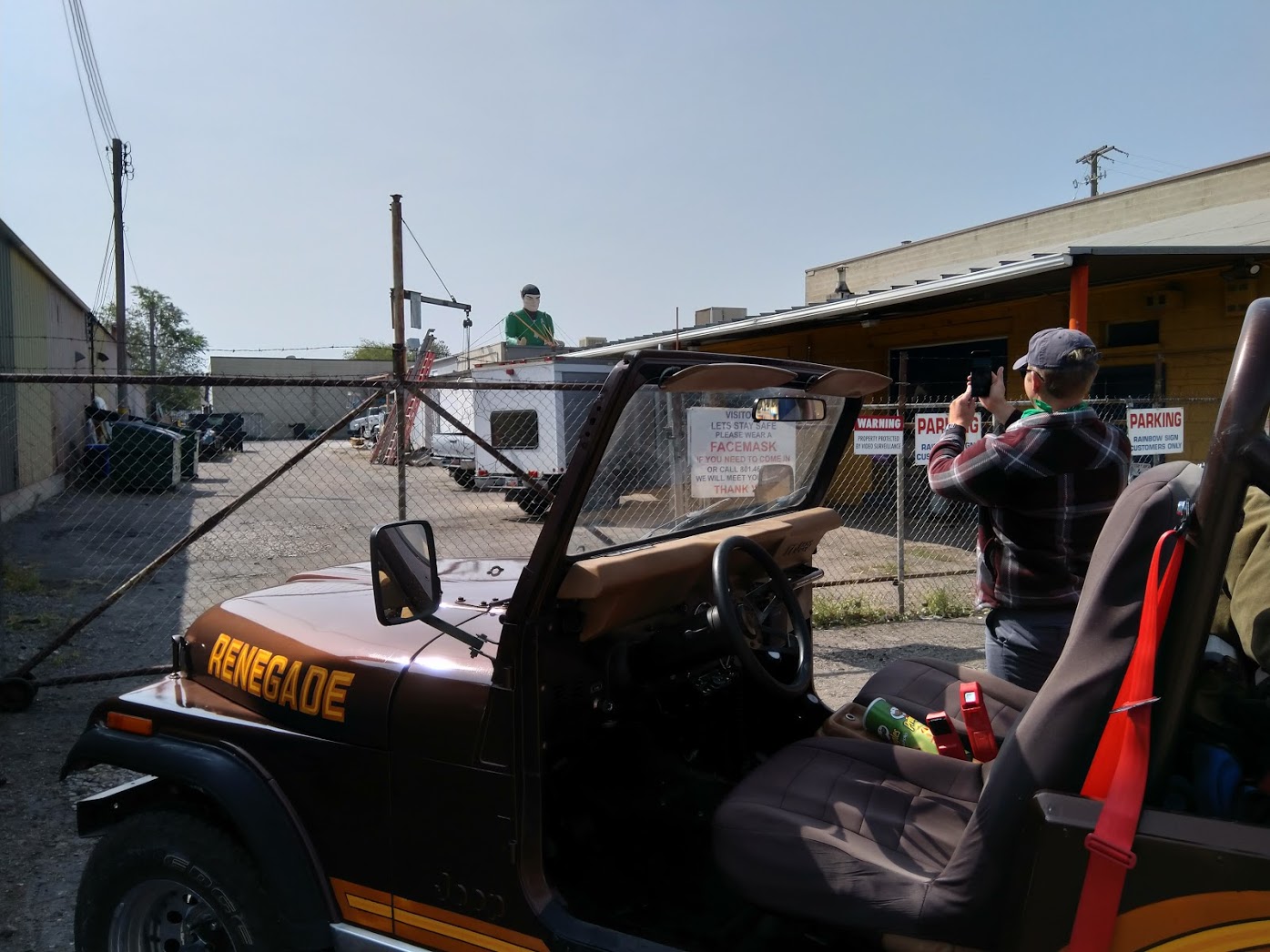 Then we headed into the Salt Lake City center. It's an orderly and clean-looking place, but we needed to keep on the road so we didn't stop for many pictures. We did make a quick stop at the old Union Pacific railroad station, both to take the picture below and to find somewhere we could change out of our long underwear. By this point, the temperature had risen to over 90 degrees!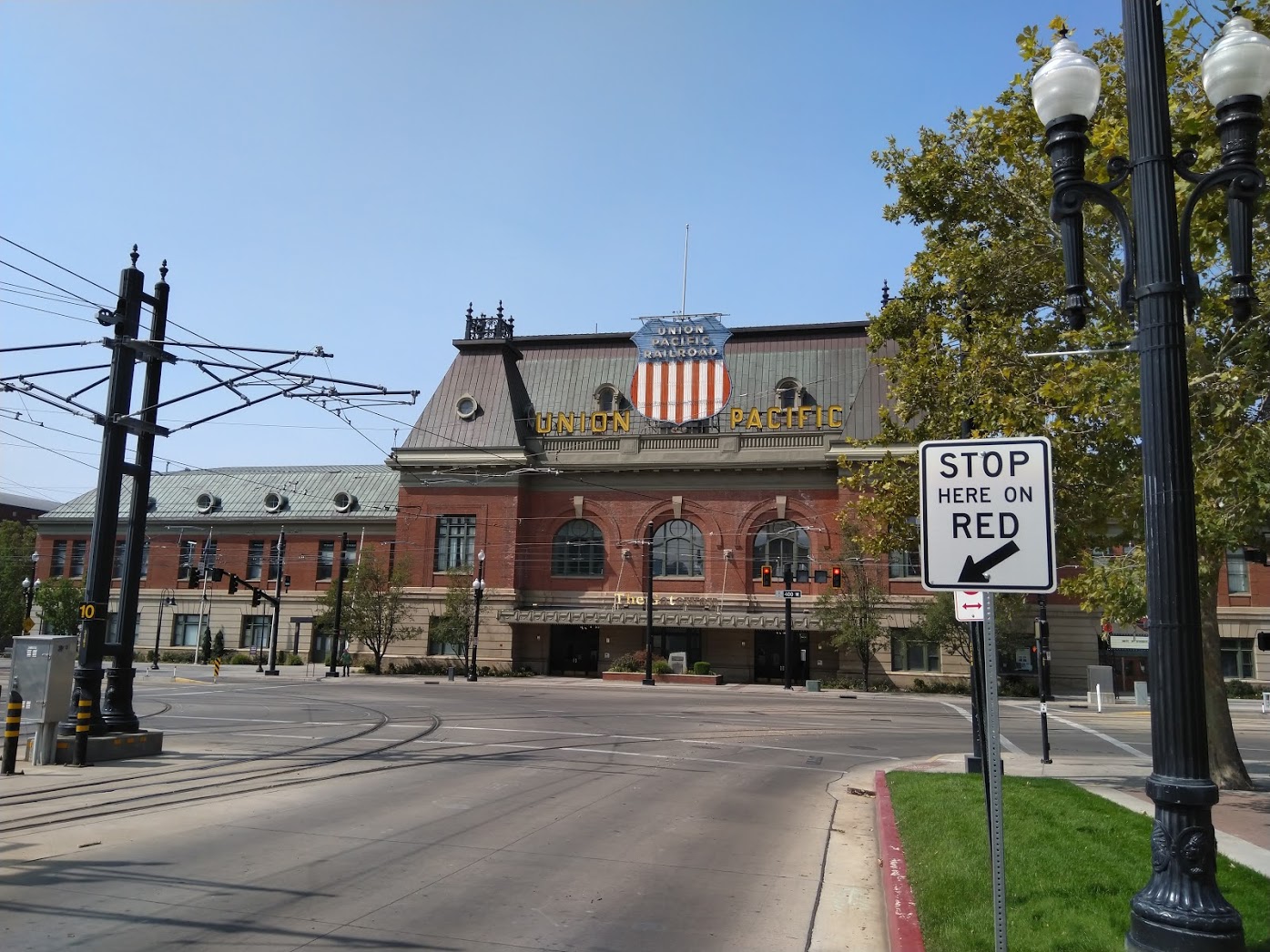 Driving became a lot more pleasant after we got off the freeway near Brigham City, taking Hwy 89 across the hills east and dropping into the pretty farming valley surrounding Logan, Utah. The country was full of farms and the pleasant smell of freshly-cut alfalfa was everywhere. I found Logan itself to be an attractive town with a nice old-fashioned downtown and Utah State University looking down from a hill. It didn't take long to get from Logan to the Idaho border, where we stopped for a quick photo: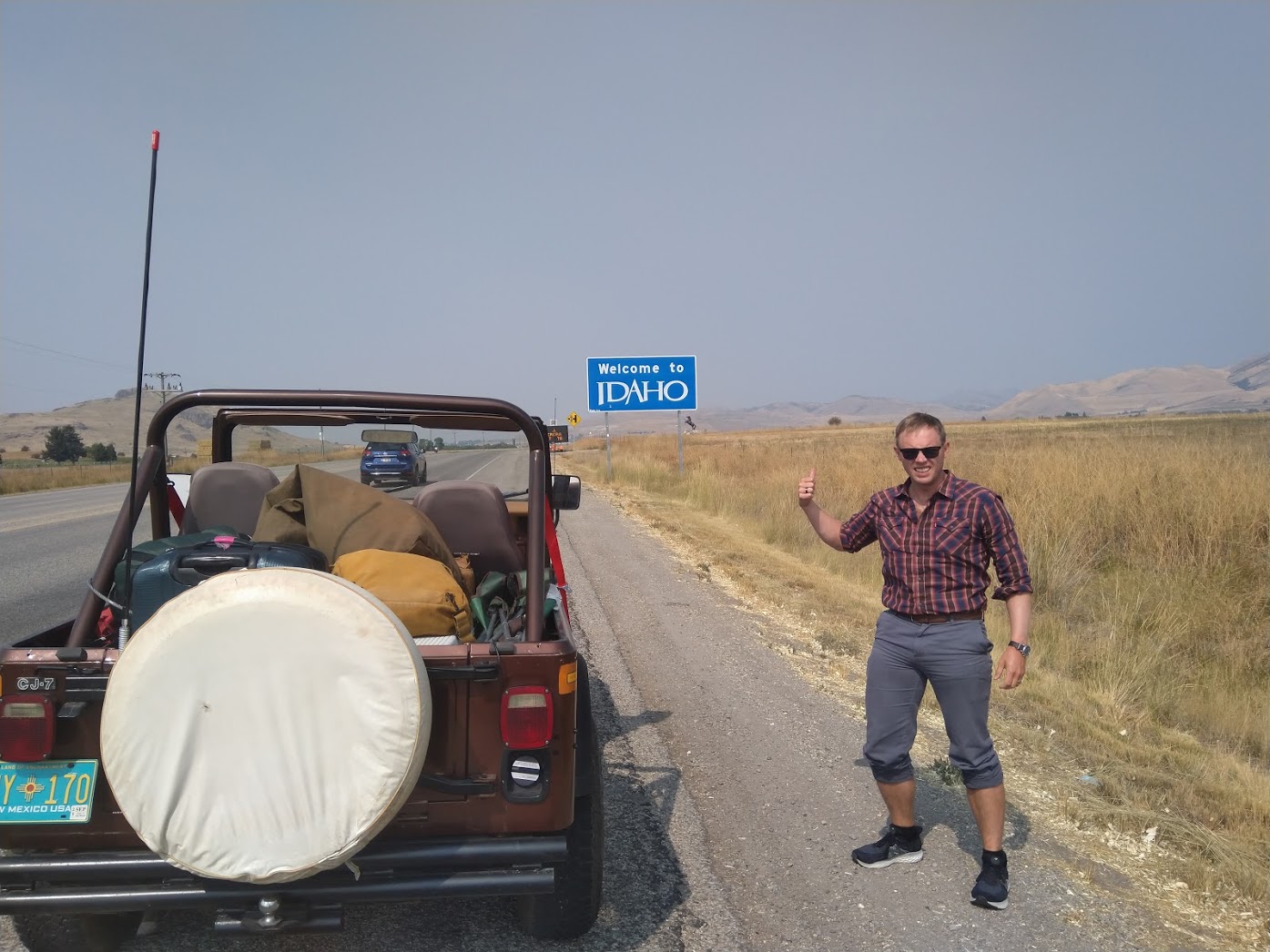 We stopped at the Owl Club bar in Preston, Idaho for a quick beer to raise our spirits before the second long freeway haul of the drive. From Preston, we took Hwy 91 northwest to join I-15. I eventually got the Jeep up to 75 mph and we barreled along toward Pocatello. At this point, the sun was getting low, so we were concerned about sunburn, but it was far too hot to put anything long-sleeved on, so we just stuck to sunscreen. At one point, the sun was exactly aligned with the edge of the Jeep's top such that the top's rapidly flapping flickered the sun right on my eyes, a deeply unpleasant experience. We made it to Blackfoot before finally diving off the freeway onto Hwy 91 again, willing to trade the slower route for a more pleasant environment.
A freeway always seems to be 10 degrees hotter and much windier than any other roads, and sure enough things were very nice again once we got onto the highway. We had our sights set on Kris's place by this point, but we pulled over just long enough to snap a picture of one of the Uniroyal Gals standing outside Martha's Cafe in Blackfoot.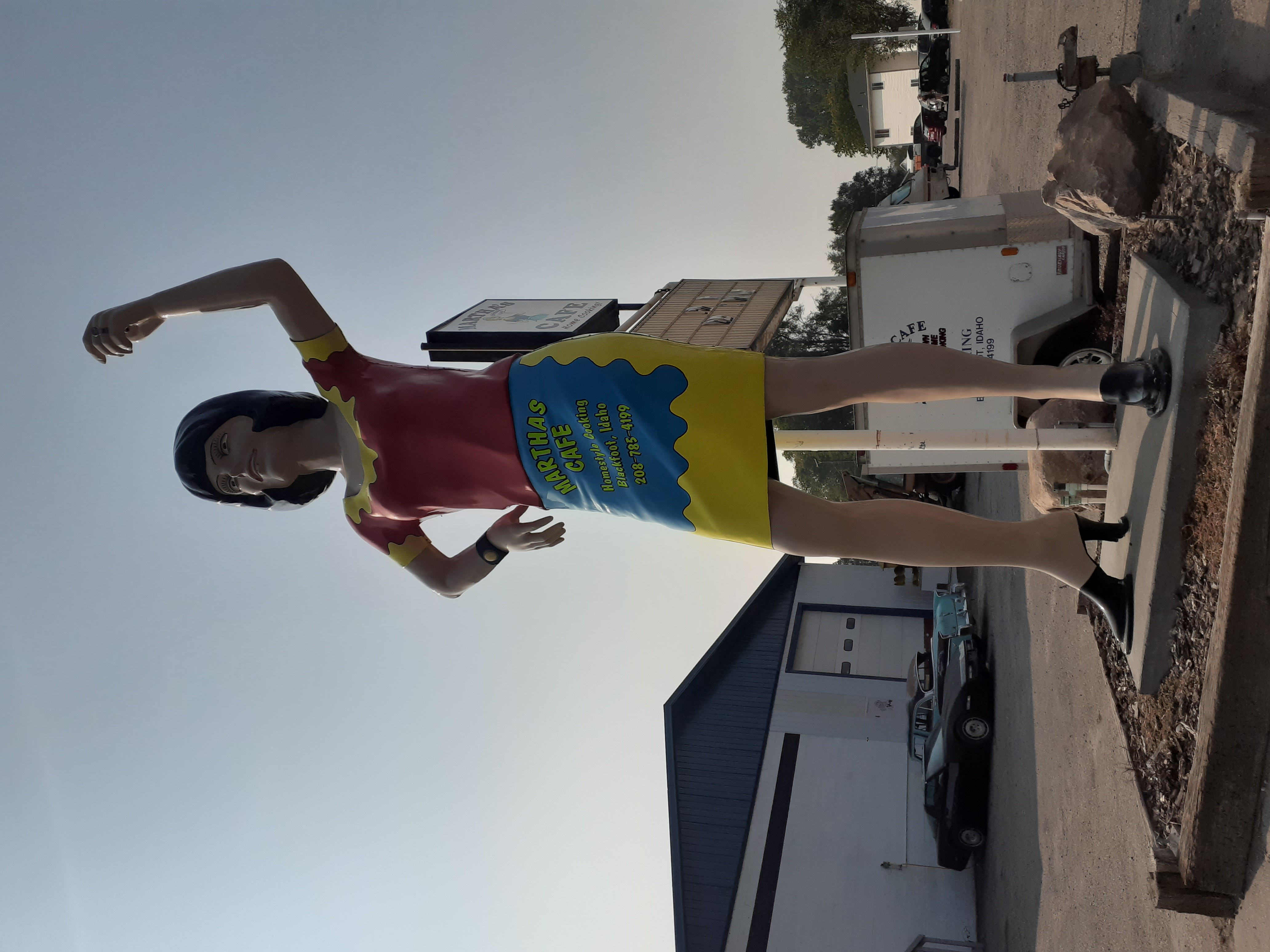 Finally, some time around 6 p.m, we pulled into Kris's driveway in Idaho Falls. He had beers in our hands before we even got into the house, and we were soon showered and sitting in the back yard for some pulled pork Kris has smoked that afternoon. I checked the fluids on the Jeep after dinner and was pleased to note that everything was just as full as when we left Albuquerque, but I put in a little engine oil just to feel like I did something (it was closer to the "add" mark on the dipstick, so I gave it half a quart).
We didn't stay up late, because we were exhausted but also because we intended to get another early start the next morning–I aimed to be on the road by 7. At this point, we weren't quite sure where we'd stop the next day. Going all the way to Royal City would be at least 13 hours of driving, and take even longer because of stops for food and gas.
Day 3
Disclaimer: This section is mighty short on pictures, because 1) it was far smokier than on the previous days, and 2) we were covering a great deal of ground and sort of got focused on miles over views. Mea culpa.
We woke up well-rested on the third day, made coffee, and were on the road by 7. We made a quick stop at the Idaho Falls Wal-Mart for long-sleeved athletic shirts in case the sun got too intense for our jackets, then blasted up I-15 to Sage Junction, where we took Hwy 33 west. Knowing that gas would be a bit scarce between there and Salmon, we topped off the tank in Mud Lake. We were glad for the break anyway, because it was cold that morning. It was also smokey, and the smoke only got worse as we went. Leaving Mud Lake, we took Hwy 28 at the fork just outside of town, a route we'd stick to all the way to Salmon.
Immediately outside of Mud Lake we found alfalfa fields in mid-harvest. The smells were fantastic, and we marveled at all the hawks sitting around watching for mice in the freshly-cut fields. Every pivot waterer had at least a dozen hawks sitting on it, and on one we counted over 30 hawks!
Before long the fields gave way to sagebrush and a sign welcoming us to the Idaho National Lab land. They have experimental reactors and other facilities scattered across a 900 square mile area, but thanks to the smoke we only saw one nondescript building, faintly visible on a hillside. The smoke made it hard to judge if we were going uphill or not; Josh was driving at this point, and he kept shifting into 5th, then slowly losing speed until he had to downshift again. I wondered if something was going wrong with the engine, until I finally pulled out my phone and checked GPS. Turns out we were steadily gaining elevation, it was just imperceptible to us in the car.
As the miles rolled on, I did start to wonder about the engine. It sounded louder, a little raspy. At about 44°19'57.9"N 113°04'55.7"W, there's a pull-out on the side of the road with some signs about historical mining activity; I had Josh stop there, intending to switch drivers so I could see if anything was wrong. We stretched our legs for a minute, then hopped back in, only to find that the Jeep was doing "that thing". That is, sometimes if I stop the Jeep for a short period, it doesn't want to start back up again. It just chugs and seems to be firing on only one or two cylinders. If I let it sit a while, it'll eventually fire up again. I'd suspect vapor lock, but it just doesn't seem hot enough for it!
We waited a bit and eventually got the engine started, but now it was definitely different. Any acceleration would cause a loud rushing noise from the engine compartment. I suspected an exhaust leak, but didn't want to start fooling around with it on one of the loneliest stretches of highway in the country–we were at 7,000 feet, there wasn't a town for miles in any direction, and we hadn't seen more than half a dozen cars in the last hour.
Despite my worries, we made it to Leadore just fine and filled up with gas at Fred's Place (a single unattended gas & diesel pump in an RV park's side lot). The name "Leadore" makes sense once you learn of the mining that used to go on in the area… including lead mining. By this point it was something like 10:00 and we saw no sign of any mechanics, so we decided to just blast on to Salmon and see if we could get someone to take a look there.
We got in to Salmon a bit before noon and were pleased to see half a dozen mechanics' shops at the edge of town. We picked the one that had the weirdest cars in the lot, including an old 50s sedan and a 70s Jeepster Commando, figuring that was usually a good sign. The guy behind the counter said they were booked up for 3 weeks, but we got him to come out and listen while I drove around the lot. He popped the hood and pointed out that we were leaking exhaust right where the exhaust manifold bolted up to the exhaust pipe, and directed us to the O'Reillys down the street for a new gasket.
The folks at the O'Reillys, it turns out, didn't have the appropriate gasket in stock, so we decided we'd just let it cool down and see if we could re-tighten the bolts enough to reduce the noise. We left the Jeep in the parking lot, asking the parts guys to chase off anybody who started rifling through our stuff, and walked over to Burger King for a quick lunch. After eating perhaps the wettest chicken sandwich of my life, we went back over, borrowed some extra-deep sockets from the shop, and got to work.
It turned out that the bolts holding the exhaust pipe to the manifold were just incredibly loose. Not "needs a turn or two", more "jiggles up and down freely, needs significant time with the socket wrench to tighten". They're also in an incredibly cramped and difficult to access spot, but with one of us crawling under the Jeep and the other going in from the hood, we got them snugged down acceptably. When I fired it back up, it was back to the well-behaved little engine we'd come to love over the last few days. The guys in the store had all taken an interest in our trip, as had the customer who'd dropped in for a radiator hose for his old Jeep, and they seemed genuinely happy to see that we'd sorted out our problem and wished us the best on the rest of our trip.
We hadn't lost too much time all-told, so we were now starting to think about just finishing the trip that day. We talked it over some more as we left Salmon and decided we'd try to get to Lewiston-Clarkston on the Idaho/Washington border, then either get a hotel there or drive the rest of the way.
The next part of the trip, between Salmon and Lolo, included some of the most beautiful country we'd seen on the whole trip–and we have no pictures of it, both due to the smoke and because the curvy roads meant we'd see a neat sight briefly and then it was gone again. We wound alongside the Salmon River for miles. We saw a mountain goat standing on the roadside; when it saw us, it scrambled right up the steep roadside and out of the way. Finally we left the river and climbed up to the Idaho-Montana border, once again topping 7000 feet. We actually didn't realize it was the border at the time–we missed the sign in our relief at making it up yet another long steep climb, and didn't figure it out until much later when we started to wonder if we were in Montana yet!
We followed the East Fork Bitterroot River down out of the mountains to where it joined the West Fork and became just "the Bitterroot". We would follow the river all the way down to Lolo, near Missoula, in a valley between mountain ranges we could really only guess at through the smoke. Along this valley we saw what happens when everyone decides they really want to live in a quiet little spot alongside a beautiful river… turns out nobody gets to live in a "quiet little spot". You can blame rich people moving in from California or whatever, but us regular folks are not immune to the attractions of such a place either.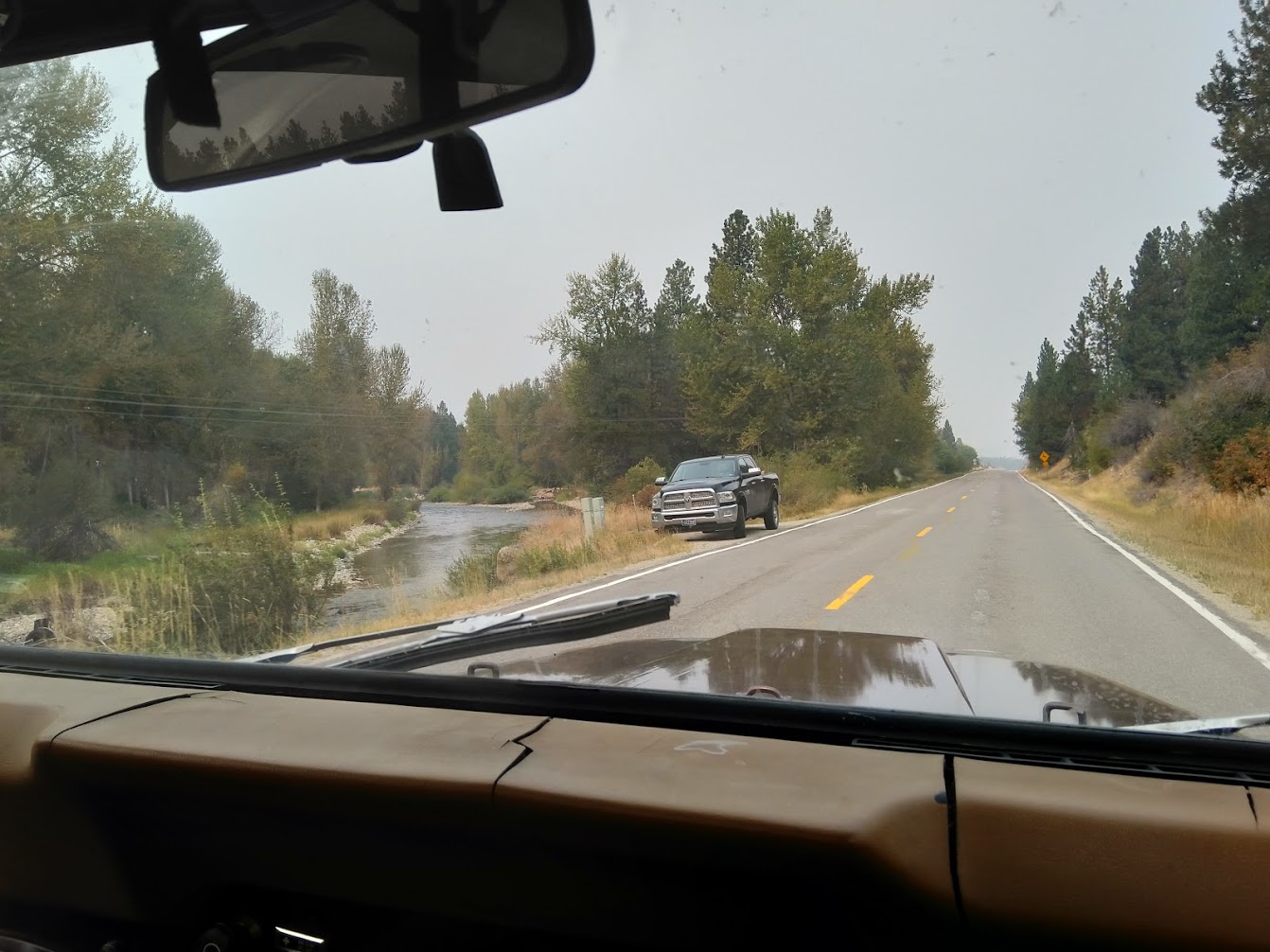 When we made it to Lolo, we stopped for gas at a very large and busy gas station, then ran in for a snack. Josh spent some time fighting the ATM, because all of his credit and debit cards had decided to stop working with no warning from his bank. An older man came up as I sat in the Jeep waiting, tapped me on the shoulder and said, "I was going to try and buy your Jeep, then I saw your plates"–figuring that I wouldn't want to be vehicle-less so far from home. I had in fact decided before the trip that if someone was very insistent on buying the Jeep, that for $8000 I would sign over the title (which I had with me) and, I guess, ship my stuff home then hop on a Greyhound. I didn't mention that to the guy, though, because by this point I was pretty excited to go all the way and pretty confident that the Jeep would do it.
Highway 12 leads up out of Lolo and before too long climbs up to Lolo Pass at 5200 feet. We had to stop for a flagger at the bottom of the approach and wait for a pilot truck to come take us up to the top of the pass, because they were re-painting the road. Luckily we didn't have to wait long, and frankly the slow speed of the pilot truck was much more suitable for the Jeep's up-hill capabilities!
Once you get up to Lolo Pass, it's then a very long, winding downhill of perhaps a hundred miles into Kooskia. There is a lodge/RV park/Sinclair station near the top where you can pay far too much for gas, which we did to be safe. I got to watch a guy repeatedly fail at understanding how a gas pump works, as he kept carrying the nozzle over to his car, then flipping up the handle, then swiping his card, then putting the nozzle back, then wondering why it canceled the transaction, and so on. Eventually he figured it out and I got my turn.
The ride down from there was beautiful, but marred by the smoke, which had finally gotten so heavy that we could smell it distinctly. You pick up the Lochso River before too long and follow it for miles until it finally joins with the Selway and becomes the Middle Fork Clearwater. All along the way there are pull-outs for fishing, campgrounds, trailheads. We saw plenty of people out there, even in the midst of an insane fire season and a global pandemic.
Finally, hungry, we pulled into Kooskia, only to find a crappy little convenience store and a couple of gas pumps, and nothing else. We filled up and got back on the road, thinking we'd have to get food at the next town, Kamiah. Later we learned that we'd gone into the back side of Kooskia, and that on the other side of town there were real restaurants. In any case, we found a grocery store in Kamiah and got some food from the deli; I wasn't feeling up to much more than a couple corn dogs at that point, anyway.
Leaving Kamiah, we saw one of those electronic information signs on the side of the road warning us to expect delays due to firefighting activity… delays of up to 50 minutes. We figured we'd just have to chance it, though, and soon found ourselves stuck behind yet another flagger waiting for the pilot truck to come get us. This time, though, we had to wait. We chatted with the trucker behind us and learned that there was quite a lot of fire right alongside Highway 12 up ahead, which explained why the smoke had gotten so much thicker since Lolo Pass.
About the only pictures we took on day 3 were of the fire, specifically the spot where it was right next to the road.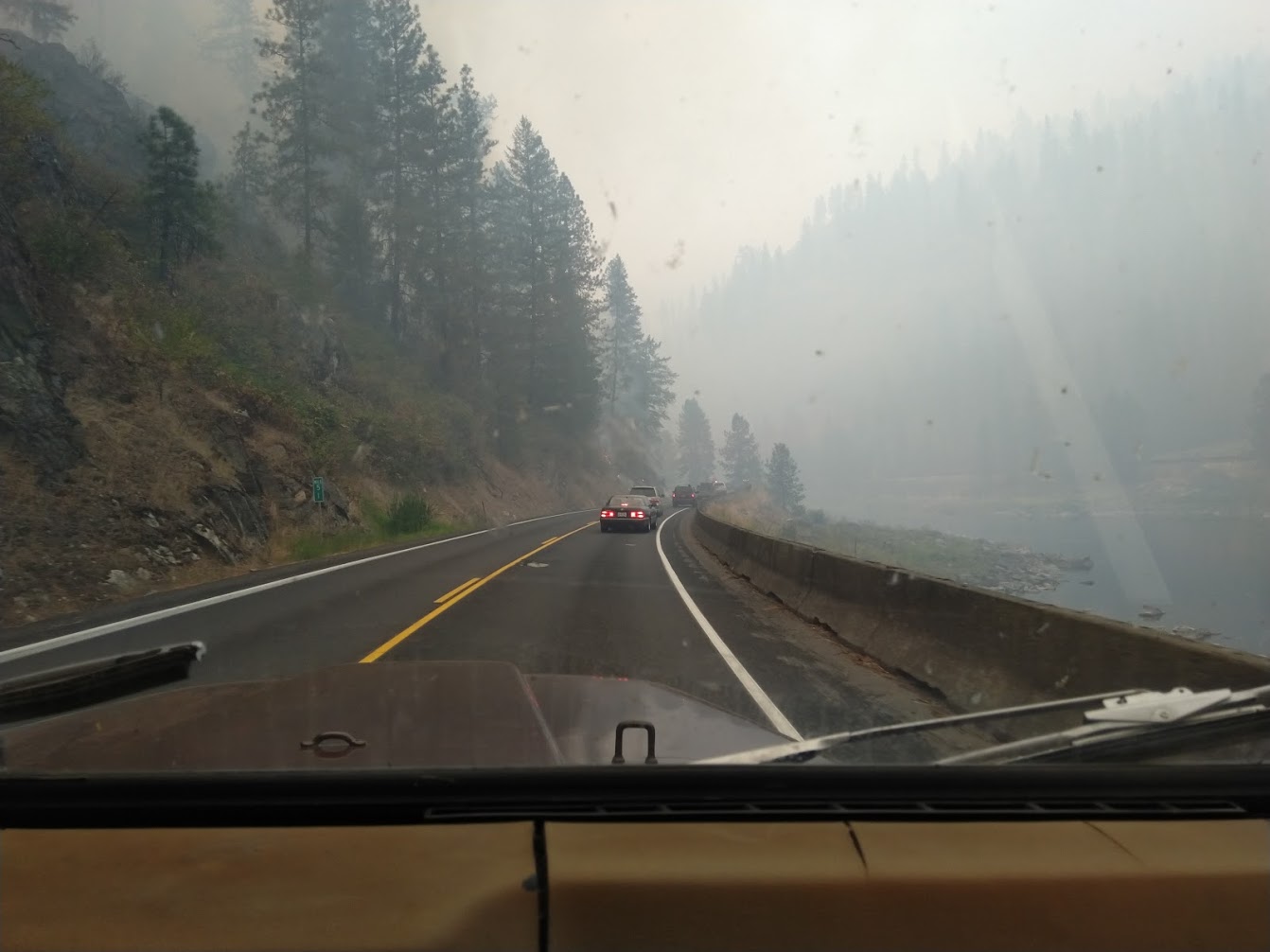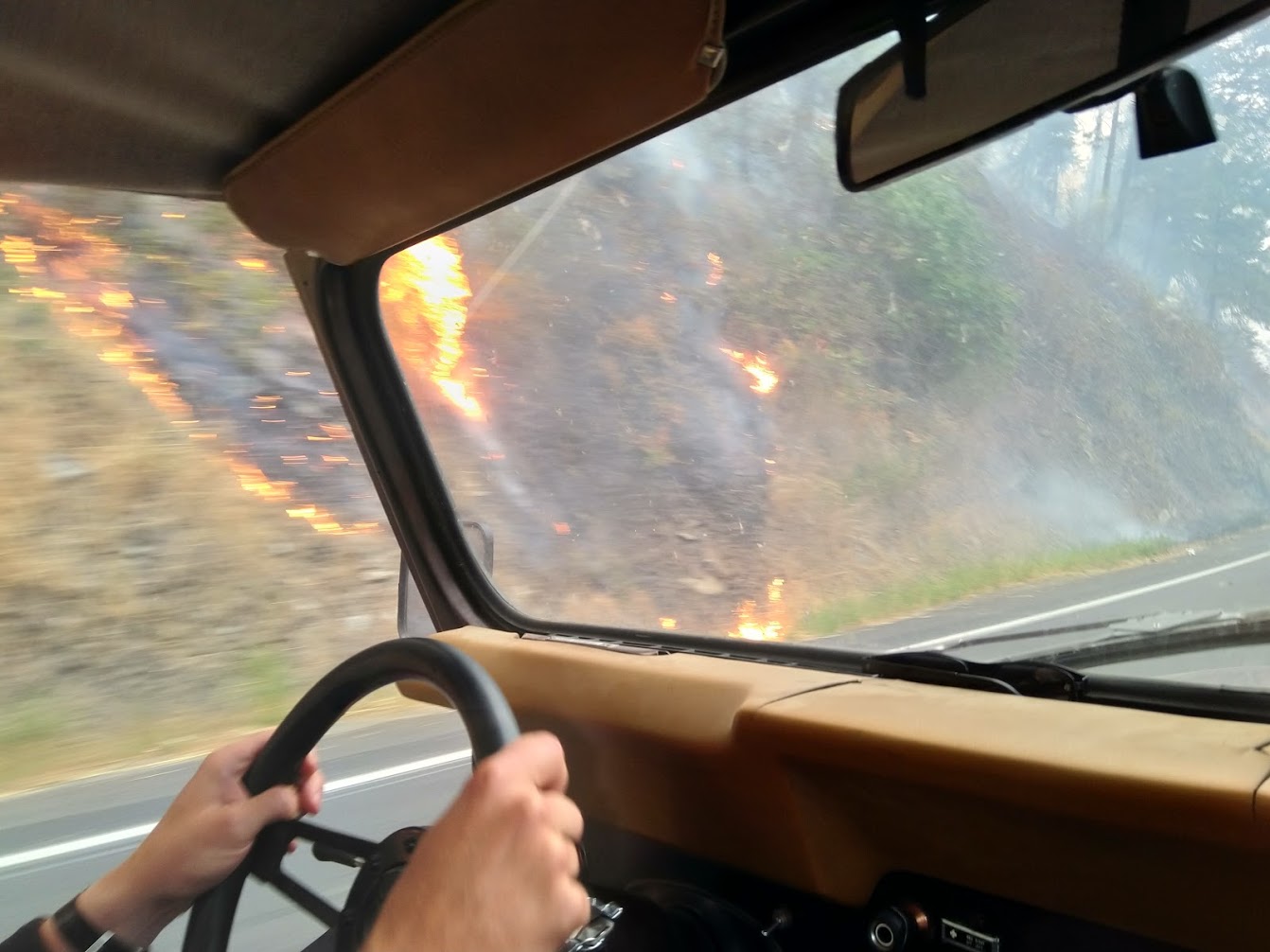 The fire caused pretty serious delays for us. We made good time after that, but when we stopped for gas again at a casino just outside of Lewiston, the sun was about to go down. Still, we were feeling pretty good, and we didn't want to go through all the unpacking & repacking we'd have to do to spend a night in a hotel, so we decided to just go for it. Some time after 6 p.m., we headed up the incredibly long climb of Hwy 95 from the Clearwater River to the Palouse. Once we crested the top, we turned off onto Hwy 195 and were finally in Washington!
We got our first use of the Jeep's headlights before long; by the time we reached Pullman, it was pitch black. I was pleased to see that Hwy 195 actually completely bypasses the town; while in normal circumstances I'd be happy to stop in for a burger, perhaps at the Cougar Country Drive-In, we were now on a mission to get home before it got too late.
We did have to drive through the town of Colfax, where we stopped for more gas and bought some Red Bull. Josh was not comfortable driving an unfamiliar old vehicle in the dark and frankly I didn't mind–but I wanted to be sure I'd stay awake. Colfax seemed like a cool little college town that I'd like to check out in the daytime at some point.
At the north end of Colfax, we left Hwy 195 and got on Highway 26, the road which would take us all the way home. After a few miles I got more accustomed to the way the Jeep's headlights lit up the road and I started to enjoy the drive. The Palouse is a very dark place at night. There are few houses and fewer towns. Between Colfax and Othello, I don't think we saw more than a dozen cars, and most of those were all clustered up in one area. One of them flashed his lights at us, which confused us… until we came around the corner and had to brake for the deer crossing the road.
Otherwise, there's not much to say about the drive between Colfax and Othello, except that you could definitely tell when we entered the Columbia Basin Irrigation Project, because suddenly the scents became much more varied and interesting. We couldn't see what was around us, but we would suddenly catch the smell of mint, or fresh-harvested onions, or alfalfa… or, once, a dairy, a powerful odor when you're not expecting it!
Once we got to Othello, I knew we were in the home stretch. I marvelled at how much Othello seemed to have grown since I lived around there. In the dark, I then repeatedly misjudged how far it was to Royal City–there's a stretch of perfectly straight highway which always seems to go far longer than I expect or remember. At last, though, we turned off into the little town of Royal City, drove through the quiet streets and out the few miles to my parents' place.
Though it was past 10–long past bed-time on the farm–my parents were up and waiting for us. They gave us cold pizza and cold beer and chatted for a bit before Josh and I finally went off to bed (Josh, being the guest, got the better bed, but I was too tired to care). Day 3 had taken us around 15 hours.
Conclusion
It was a seriously excellent trip. I don't think Josh quite knew what he was signing up for when he agreed to come with, but he soldiered through and really helped make the ride more enjoyable. There's definitely something special about seeing the country not through a window but through the open side of an old Jeep.
Would I do it again? Well, not that same route, but I think my little Jeep has proven itself quite capable for being 35 years old, and I do hope to take it on more trips. I also think I've earned the right to snort derisively when I see somebody trailering their Jeep around!
John Floren